The "three P's" of our farming future according to Dr Cameron Archer AM, Principal of Tocal College, are: people, people, people.
Delivering the National Centre for Dairy Education Australia's (NCDEA) first annual oration on 26 November 2014, Dr Archer underlined the importance of well-educated people in producing a respected product and underpinning the future of Australia's dairy industry.
"A new technology, a genetic marker, a treatment or medicine, processing method, smart farm technology, breeding strategy, dietary strategy, feed supplements can be around the world in a flash. All of our competitors will have it. What they will do with it – will be up to their people," Dr Archer said.
"Where we can really have the competitive advantage is through our people."
Delivered to 90 members of the Australian dairy industry, including the Australian Dairy Farmers (ADF) President and CEO, the oration's themes reflected ADF's belief that people are the industry's most important on-farm asset.
Committed to developing policies and strategies to attract more highly skilled people to dairy, ADF's People and Human Capacity Policy Advisory Group advocates policies to address Australian dairy's skilled labour shortage, drive industry innovation and secure long-term prosperity.
NCDEA Manager – Educational Development and oration guest of honour, Sylvia Vagg, was recognised by the Australian dairy industry for her dedicated service to dairy education and training.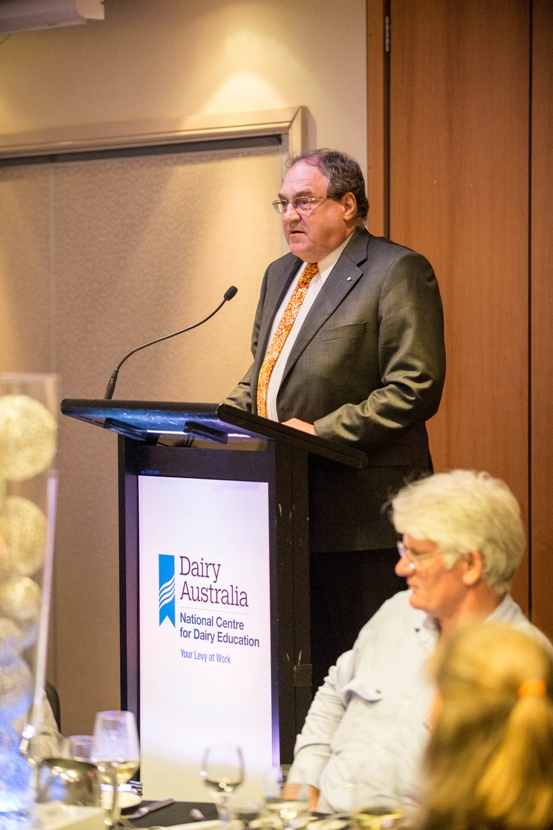 Dr Cameron Archer AM, Principal of Tocal College presenting as guest speaker at the NCDEA Oration.